Information on the XTERRA Ardennes-Long Distance

Saturday, August 10




Departure : 9 :30

Distances : 1900m – 70km – 16km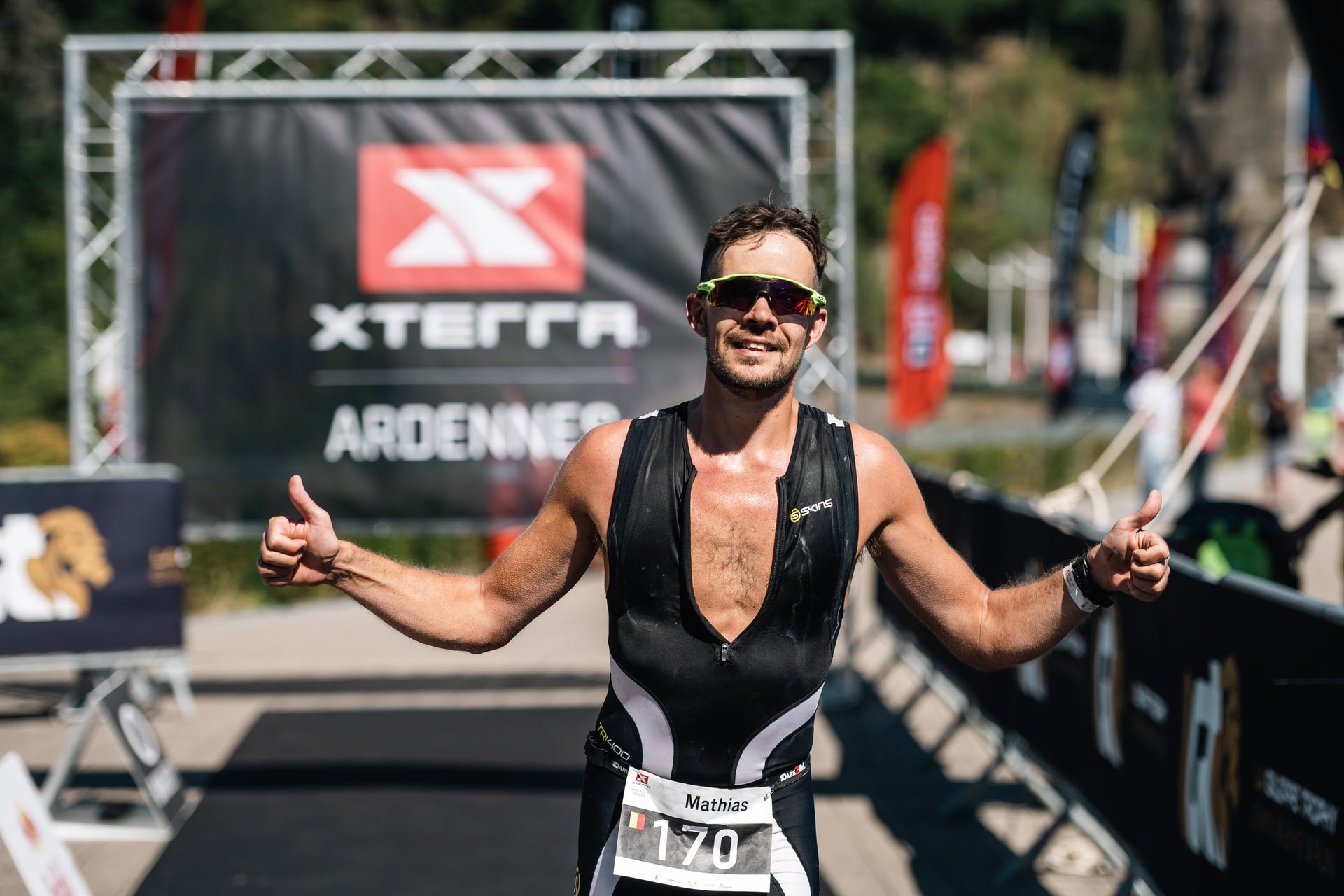 REGISTRATION PACKAGE
The XTERRA Ardennes gift when you collect your number
Live tracking during the event
Six refreshment points
One finisher's medal per athlete
A meal after the race.
REGISTRATION - limited to 200 athletes
INDIVIDUAL
Du 07/11/23 au 07/02/24 : 175 €
Du 08/02/24 au 07/06/24 : 185 €
Du 08/06/24 au 31/07/24 : 195 €
Du 01/08/24 au 07/08/24 : 205 €
Open to 16-year-olds and over.
RELAY
Aucune course relais pour l'édition 2024.

Supplément athlète non-licencié en triathlon : 20€

Option pack annulation : 20€
With cancellation package

Cancellation and refund of 100% of the registration fee (excluding administrative costs) possible until 2/08/2023
Cancellation possible for personal reasons (without justification) or cancellation of the event.
The cancellation pack must be subscribed at the time of registration and cannot be taken later (20€)
No postponement to the 2024 edition possible.

Without cancellation package

Cancellation possible until 12/07/2023 with partial refund of 80 euros.
Transfer of registration to another participant possible until 12/07/2023 (15€ handling fee).
WITHDRAWAL OF RACE NUMBERS
Friday : 16:00 to 20:00
Saturday : 7:00 to 9:00
The number can only be collected by the athlete him/herself, by presenting an identity document.
COURSE
SWIMMING - 1900m
Departure into water as a mass departure.
A 1900m loop.
Wetsuits are mandatory.

The maximum time is 1:15
ATTENTION: Training in the lake is not allowed before the race day
GRAVEL – 70km
100% Gravel course - bikes allowed: gravel, mountain bike, cyclocross
1 loop of 70km
This is a hilly course with between 1000 and 1200m of positive elevation gain.
2 refreshment points on the course
The maximum time is 5:30 (swimming + mountain biking)
TRAIL – 16km
1 loop of 8km to be done twice on a 100% trail course.
Course with at least 250m of positive elevation gain/loop
2 refreshment points/ loop
The maximum time is 9:00 (swimming + mountain bike + trail).
The race closes at 18:00.
LOTS AND PRIZES
Saturday: 5 p.m.
INDIVIDUAL AWARDS
Prizes will be awarded to the top 3 MEN and WOMEN in the overall ranking and to the 1st in each category.
One qualifying slot for the World Championships will be issued per category. One additional slot will be issued per category for every 10 athletes registered in that category. (Ex: 30 athletes registered in 30-34 = 3 slots) Please note that there will be no roll down in case athletes do not take their slot for these extra slots.


ATTENTION: Athletes not present at the award ceremony will not be eligible to receive their prizes afterwards.